Michelin Anakee Adventure Tyres Available in Oldham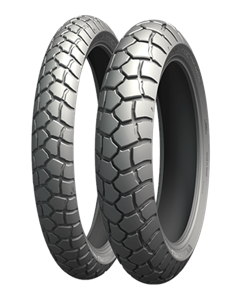 Anakee Adventure
French tyre company Michelin has made a new Anakee Adventure tyre specifically for those riders who don't like as much adventure as they do touring.
The new Michelin Anakee Adventure will be unveiled at the EICMA Motorcycle Show in Milan this week (November 6-11). It will be available in Australia from January.
It has been approved for the new BMW R 1250 GS as well as many other big-capacity adventure bikes. Michelin's partnership with BMW Motorrad started in 2005.
This latest addition to their range is designed for 80% road use and 20% track/trail use.
It joins their adventure range consisting of the Road 5 Trail for 100% road use and Anakee Wild for 50% road and 50% off-road.
Michelin claims the Anakee Adventure has exceptional grip on wet roads due to its new-generation silica-enhanced compound.
It is also claimed to have dry weather stability and long wear thanks to two Michelin-patented technologies: Dual Compound 2CT and Dual Compound 2CT+.