Continental Race Attack 2 Street Tyres Available in Oldham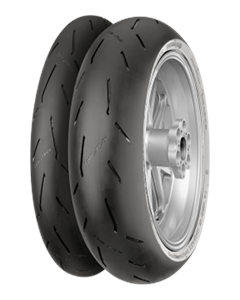 Race Attack 2 Street
The ContiRaceAttack 2 Street is our most high-performance road tyre to date, and it can handle the track too!
New tyre profile gives a larger footprint at extreme lean angles for improved grip and feedback.
MultiGrip technology improves mileage through a wear resistant central area and progressively increasing grip levels toward the shoulder, with no sudden changes in compound.
A refined zero degree steel belt construction on the front and rear improves high speed stability even on the most powerful superbikes.
Slick shoulder area offers maximum grip in the corners, and improved line holding abilities.