Bridgestone Battlecross E50 Tyres Available in Oldham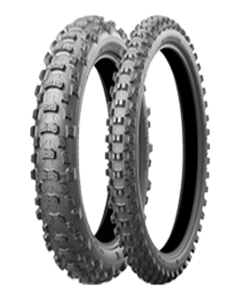 Battlecross E50
INCREASED PERFORMANCE
The Battlecross E50 is the tyre helping you overcome any obstacles and achieve the highest levels of performance on all types of terrain. It is incorporating Battlecross Motocross technology transferred and optimized for real enduro usage.
CORNERING AND TRACTION GRIP
The Castle block technology increases the edge effect of the block and ensures great traction capabilities from soft terrain to wet hard terrain.
EASE TO MOUNT
The newly designed sidewall has not only improved the absorbing characteristics of the tyre but also made the mounting of the tyre a lot easier. Don't be afraid to change your tyres at the track!